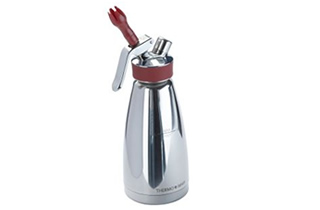 Thermo Whip Plus
A multifunctional whipper with the added benefit of a thermally insulated bottle. For preparing hot and cold Espumas, finger foods, sauces, creamy soups, as well as whipped cream and other desserts.
 Patented system to keep cold items cold for up to 8 hours and hot items warm for up to 3 without additional equipment such as refrigerators or bain-maries.
High-quality stainless steel bottle and head
Double-walled, vacuum-insulated bottle with etched markings to indicate maximum fill level
Fixed stainless steel dispensing valve for precise application and control
Decorator tips with durable stainless steel threads
Silicone banded head for heat protection during hot applications
Heat-resistant silicone gasket with removal tab for quick, hygienic cleaning
Ergonomic charger holder with non-slip silicone grip
Dishwasher safe
Closed and sealed system – supports HACCP requirements
5-year warranty on the insulating properties of the bottle
2-year warranty for materials and machining
 The iSi Thermo Whip PLUS is available as a 0.5 L device.