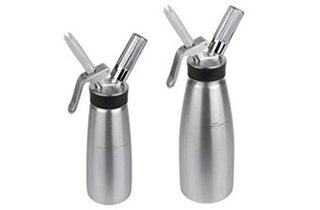 Cream Profi Whip Plus
For the easy preparation of fresh whipped cream and many other cold applications.
High-quality stainless steel bottle and head – designed to withstand the rigors of the professional kitchen
Removable stainless steel piston and silicone seal with quick release tab for easy and hygienic cleaning
Comes with a decorator tip with stainless steel thread, a charger holder, and cleaning brush
Yields up to twice the amount of whipped cream in comparison to other whipping methods.
2- year warranty
The iSi Cream Profi Whip Plus is available in 0.5 L and 1 L sizes.